Discover more from Arkansas Newsroom
Welcome to Arkansas Newsroom, your source for news about Maumelle, North Little Rock and the state.
Candidate forum is Tuesday
Remembering Burch Johnson and Al Canelli; Leaf peeping season is here; Oliver! starts this week; As does the Arkansas State Fair plus headlines
Note to subscribers

: An annual or monthly subscription is billed to your debit or credit card as ARKANSAS.SUBSTACK.COM and if you have questions, please email arkansas@substack.com. Thanks for reading and subscribing!
Candidate forum this Tuesday
ArkansasNewsroom.com will sponsor a municipal race candidate forum this Tuesday, Oct. 18, at the First Baptist Church in Maumelle.
The forum is scheduled to start at 6:30 p.m. and will be moderated by Neal Moore, a public relations consultant and columnist for the site and Jeremy Peppas, who is the site's editor.
The forum will be livestreamed on Facebook here and on YouTube here.
Links to both streams will be sent about 20 minutes before the start of the forum on Tuesday when it goes live.
Friday is the last day for paid subscribers to submit questions. So don't forget and many thanks to the people who have sent questions in so far.
Election Calendar
Tuesday, Oct. 18: Maumelle Candidate Forum

Oct. 24: Early voting begins

Nov. 8: Election Day
---
Death toll stays steady
The total number of dead Arkansans this past week was 99.
Last week, it was 104 and the week before that it was 103. The ttoal death toll in the last four weeks is 364 or about the same number of people who died tn the three previous months stretching from June to August.
The total number of dead Arkansans is now at 12,334.
Covid toolkit

There's now a one-stop shop to learn about vaccination sites and other Covid related information. Click here to learn more.
If you don't want to get sick and die, there's some things you can do:


Get vaccinated
Get boosted
Wear a mask
Avoid crowds
The Headlines
The Tax Man (woman in this case) Cometh: The Pulaski County Property Tax deadline has been extended to this Monday, Oct. 17 and paying has been made easier.
Upcoming meetings: The Maumelle City Council will meet next Monday night.

Upcoming events: So much to do. The Arkansas State Fair opens this Friday and there's a shockingly good lineup of entertainment set from the twangy dad rock of Drive-by Truckers to the '90s Dance Party with some nostalgia fueled hip-hop to the '90s fueled-nostalgia of The Wallflowers. And that's the first weekend. It keeps going. To read more click here and to buy tickets to any of the shows, or just the fair, click here. On Saturday, at North Little Rock's Burns Park is hosting the Little Rock Celtic Festival - Highland Games. To buy tickets, click here and as already seen above, the Maumelle Candidate Forum is Tuesday.
Passings
Maumelle lost two of its most notable citizens in the span of a few days as former Mayor Burch Johnson and Al Canelli, who served as President of the Maumelle Area Chamber of Commerce, both died.
For Johnson, funeral arrangements are still pending, but he was Maumelle's first elected Mayor and died Oct. 10. Gov. Asa Hutchinson directed the Arkansas state flag be flown at half-mast from Wednesday until the day of Johnson's interment.
Johnson's wife, Jackie, died last year and the couple were married for 65 years.
Canelli died on Oct. 5 and a memorial service will be held this Monday at 2:30 p.m. at Christ The King Catholic Church, 4000 North Rodney Parham Road in Little Rock.
For the full obituary, click here.
Oliver opens this week at Wildwood
The Wildwood Park for the Arts will be hosting performances of Oliver! this week, starting on Friday and continuing through, Sunday, Oct. 23.
The performances will be at the Cabe Theatre and there's a total of six shows.
The Friday and Saturday night shows are at 7:30 p.m. and the Sunday shows are matinees with a 3 p.m. start.
Tickets are $35 and can be purchased by clicking here.
To book wheelchair and walker accessible seating, please contact finance@wildwoodpark.org
Time for leaf peeping
It has been Autumn since last month but it hasn't felt like Fall until relatively recently, as is usual in Arkansas.
But now that the weather has taken a turn towards the crisp. it means other signs of Fall have begun to emerge.
Pumpkin Spice for one is now available at your preferred local coffee shop, but, more importantly, the leaves have begun to change and that's the point.
That glorious color is beginning to show and now is the time to start planning those outings.
David Angotti, the founder at SmokyMountains.com, said his site has a "predictive fall map" that allows users to gaugewhen and where leaves will be at peak fall color.
"In order to accurately predict fall, our model ingests a multitude of data sources including historical precipitation, NOAA precipitation forecasts, elevation, actual temperatures, temperature forecasts, and average daylight exposure to develop a baseline fall date for each county in the continental United States," he wrote in an email. "Next, the model consumes hundreds-of-thousands of additional data points from a variety of government and non-government sources and layers this data over our own historical data from past years. Finally, with a high degree of accuracy, the algorithm produces nearly 50,000 date outputs indicating the progression of fall for every county in a graphical presentation that is easy to digest.
The map, seen below, can be viewed by clicking here.
Below is the prediction for next Monday, Oct. 17.
You can see that northwest Arkansas is in partial territory while central Arkansas is minimal.
It is only going to get better as temperatures drop across Arkansas's 19 million acres of forest, or about 56 percent of the state, according to the Arkansas Farm Bureau.
That survey said Arkansas has roughly 11.8 billion trees, and of those, 42 percent are oak or hickory, and the leaves of deciduous trees are where the color comes in. Hickory goes yellow, while oak can be a bright red, with some some copper or yellow.
What Arkansas doesn't have are many maple trees and the brilliant bright red leaves they produce.
Angotti notes that his map is a prediction, and, like the weather, it doesn't always work out exactly.
"Similar to any meteorological forecast, leaf predictions will never be 100 percent accurate," he said. "However, after publishing our predictive fall foliage map for nearly a decade, we are quite confident in our data sources, process, and algorithm. Our experience combined with a scheduled mid-season update has us especially confident about this year's predictions. Our goal is that this data-based, interactive tool will increase the number of people that are able to enjoy peak fall in 2021.
He also noted using the map is fun and "it's kind of addictive," which is very true.
To help improve the map and its predictions, Angotti said, readers could submit their observations by clicking here. The online form is three questions and takes just a couple of minutes to submit.
The site also produced what it called the "Ultimate Leaf Peeping Guide" and where the best place is in all 50 states to see fall foliage.
The list can be viewed by clicking the top places to view fall foliage and includes three places in Arkansas:
Devil's Den State Park, near Winslow

Mount Magazine State Park, south of Paris

Talimena National Scenic Byway, near Mena
All three locations are easy enough drives from central Arkansas. Closer to home, and while they didn't make the cut, personal experience says Pinnacle Mountain State Park in west Little Rock can be glorious.
Sports
Football: North Little Rock rolls; Maumelle, CAC don't hang on
Maumelle found its offense last week in a tight, 35-30, loss to Joe T. Robinson as the Hornets were helped by the return of quarterback Weston Pierce, who has missed the previous week due to injury.
Pierce, a senior, passed for 136 yards a touchdown, and also rushed for 53 yards and another touchdown in the loss.
Trevon Rawls led Maumelle in rushing with 94 yards and added two scores on the ground.
The pair also combined for three 2-point conversions.
Maumelle travels to Morrilton this week while Central Arkansas Christian and North Little Rock are also on the road.
CAC will be at Clinton, while the 'Cats are headed to Jonesboro for a 7A-Central conference game.
Maumelle at Morrilton
Records: Maumelle (2-4), Morrilton (4-3)

Streamer: Natural State Sports

Hootens.com Rankings: Maumelle stays at No. 22 in 5A while Morrilton is No. 18.

Last week: Maumelle got its offense rolling as Weston Pierce was back at quarterback. Pierce has now thrown for 835 yards, six touchdowns and has 53 completions on 116 attempts this season. His top target is Alan Timmons, who leads the team with 13 catches for 237 yards.
For highlights click
here
.
Season schedule
Aug. 26: Maumelle 28, Sylvan Hills 27 (OT)

Sept. 1: Maumelle 35, Batesville 0

Sept. 9: White Hall 44, Maumelle 24

Sept. 23: Pine Bluff 26, Maumelle 0

Sept. 30: Mills 30, Maumelle 0  

Oct. 7: Robinson 35, Maumelle 30

Friday: At Morrilton ... 7 p.m. ... Conference  

Oct. 21: Watson Chapel at Maumelle ... 7 p.m. ... Conference  

Oct. 28: At Vilonia ... 7 p.m. ... Conference  

Nov. 4: At Beebe ... 7 p.m. ... Conference  
For the roster, click here.
CAC at Clinton
Records: CAC (1-6), Clinton (5-1)

Hootens.com Rankings: CAC stays at No. 37 in 4A, while Pottsville is No. 18.

Last week: It was a tough loss last week for CAC as the Mustangs were up 28-14 at the half before eventually falling, 35-34. The Mustangs offense was powered by freshman Jacob Henry, who ran for three touchdowns in the loss. Henry also got on defense where he finished with 17 tackles.
Highlights
Season schedule
Aug. 26: Lonoke 41, CAC 13

Sept. 2: Perryville 35, CAC 31

Sept. 9: Bauxite 37, CAC 14

Sept. 16 Harmony Grove 35, CAC 14

Sept. 23: CAC 21, Little Rock Hall 19

Sept. 30: Mayflower 33, CAC 14

Oct. 7: Pottsville 35, CAC 34

Friday: At Clinton ... 7 p.m. ... Conference  

Oct. 21: Dover at CAC ... 7 p.m. ... Conference  

Nov. 4: At Lamar ... 7 p.m. ... Conference  
For the roster, click here
North Little Rock at Jonesboro
Records: North Little Rock (3-3), Jonesboro (1-5)

Streamer: NLRTV

Hootens.com Rankings: North Little Rock stays at No. 8 in Class 7A, while Jonesboro is No. 12.

Last week: As expected, North Little Rock beat Little Rock Southwest as the 'Cats hung 50 on the Gryphons. Leading the way for North Little Rock was running back Javonte Harris, who scored three touchdowns in the win. Quarterback Malachi Gober only completed five passes but two were for touchdowns, and a third was for a 2-point conversion.
For stats, click here.
Highlights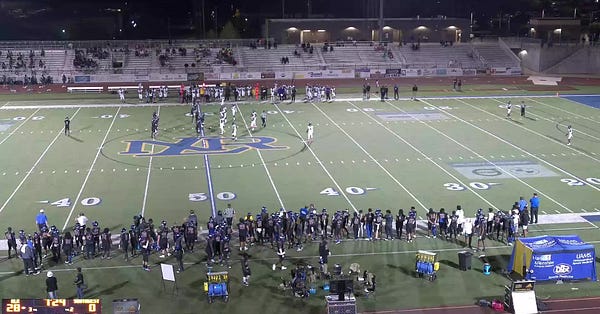 hudl.com
Little Rock Southwest High School
Little Rock Southwest High School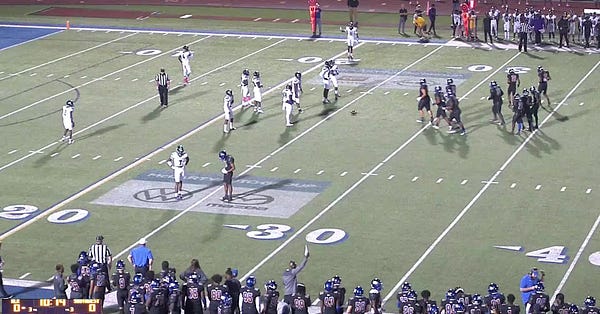 hudl.com
Little Rock Southwest High School
Little Rock Southwest High School
Season schedule
Aug. 26: Little Rock Catholic 23, North Little Rock 6

Sept. 2: Fayetteville 28, North Little Rock 10

Sept. 16: North Little Rock 28, Little Rock Parkview 27 (2 OT)

Sept. 23: North Little Rock 53, Little Rock Central 8

Sept. 30: At Conway 35, North Little Rock 0

Oct. 7: North Little Rock 50, Little Rock Southwest 8

Friday: At Jonesboro ... 7 p.m. ... Conference  

Oct. 21: At Fort Smith Northside... 7 p.m. ... Conference  

Oct. 28: Bryant at North Little Rock ... 7 p.m. ... Conference  

Nov. 4: Cabot at North Little Rock ... 7 p.m. ... Conference 
For the roster, click here.
Paid subscriptions make this newsletter possible