Early voting has begun
National Drug Take Back day is Saturday, North Little Rock gets two new department heads, It was a winning week for football plus headlines and sports
Note to subscribers

: An annual or monthly subscription is billed to your debit or credit card as ARKANSAS.SUBSTACK.COM and if you have questions, please email arkansas@substack.com. Thanks for reading and subscribing!
Election Calendar
Now through Nov. 7: Early voting is ongoing across Pulaski County. More details below

Nov. 8: Election Day
---
Death toll drops
The total number of dead Arkansans this past week was 56.
Last week, it was 62 and the week before that it was 99.
The total number of dead Arkansans is now at 12,452
Covid toolkit

There's now a one-stop shop to learn about vaccination sites and other Covid related information. Click here to learn more.
If you don't want to get sick and die, there's some things you can do:


Get vaccinated
Get boosted
Wear a mask
Avoid crowds
The Headlines
ICYMI: Time for leaf peeping

Upcoming meetings: The Maumelle Planning Commission is taking October month and its normal meeting tonight will not be held. Also, because of the calendar, there's no City Council meetings next Monday.

Upcoming events: Halloween is Monday. Plan and buy your candy accordingly.
Early voting has begun
Early voting across Pulaski County began on Monday and plenty of people are taking advantage.
As on Wednesday evening, Pulaski County Clerk Terri Hollingsworth reported a total of 17,344 people had voted.
Hollingsworth, on her Twitter account, noted that in 2018, the first three days then saw 17,664 vote early. So the numbers are closely tracking in the non-Presidential election cycles.
Early voting continues through Monday, Nov. 7 with Election Day on Tuesday, Nov. 8.
Polling sites in Maumelle and North Little Rock include:
The Jess Odom Community Center

The main branch of Laman Library, 2801 Orange St., North Little Rock

The Glenview Community Center, 4800 E. 19th St., North Little Rock
Those polling places open at 10 a.m. and close at 6 p.m. during the week. On Saturday, polls open at 10 a.m. and close at 4 p.m.
The last day to vote early is Saturday, Nov. 5.
The only early voting location on Monday, Nov. 7 is the Pulaski County Regional Building in downtown Little Rock.
Races of Note
There's been plenty of focus on the race for Maumelle mayor, Pulaski County sheriff, State Representative District 71 and Maumelle Ward 2. Those races were the ones featured at last week's Maumelle Candidate Forum.
But, there's other races out there of interest to North of the River residents.
In Pulaski County, incumbent School Board member Lindsey Gustafson drew an opponent in Wendy Potter in Zone 5, that covers portions of Maumelle as well as rural North Pulaski County.
Gustafson currently serves as the School Board president and is also the associate dean at the Bowen School of Law at UALR. 
Potter, who has never held elected office, has been active in Republican Party politics in Pulaski County. She's also a member of the PCSSD Patriot Parents group on Facebook. As one might think, the group is opposed to things like mask mandates and have a heavy emphasis on parental rights.
In North Little Rock, there's two City Council seats with races as Ward 2, Position 2 has a race between incumbent Linda Robinson and opponent Nicole Hart, while Ward 4, Position 2 has a race between incumbent Jane Ginn and challenger Vince Insalaco III.
Robinson has served on the council for decades, while Ginn is seeking her second term.
Ginn also ran and lost against Murry Witcher in 2014.
Insalaco is a familiar name at least as his namesake and father Vince Insalaco II has been active in Democratic Party politics since before his son was born.
And while Sherwood is Sherwood, there's a fascinating four-way Mayoral race between incumbent Mayor Virginia Hillman Young, Council Member Mary Jo Heye-Townsell along with Brett Johnson and Shane Foster.
Heye-Townsell is a long-time Council member and might be better known as the swim coach for the dominant Sherwood Sharks program, while also coaching her children who were Olympic swimming team contenders. She's also married to Tab Townsell, the former mayor of Conway and who now serves as the executive director of Metroplan.
On the legislative side, State Sen. Jane English is running for yet another term but in the newly redrawn District 13.
She has opponents in Democratic Party candidate Allison Grigsby Sweatman and  Noah Jones, a Libertarian.
As Neal Moore noted last week, English is the presumptive favorite.
There's also two races for Congress.
The most obvious is District 2, where U.S. Rep. French Hill is running for another term, this time against Quintessa Hathaway and Michael White, who are, respectively, a Democrat and Libertarian.
Also, because the State Legislature worked hard earlier this year to protect Hill's chances, some voters along the eastern edge of Pulaski County have a choice between U.S. Rep. Rick Crawford and current State Rep. Monte Hodges for the District 1 seat that had previously and traditionally  covered northeast Arkansas. The new map of the district extends down the Mississippi River to the state line with Louisiana.
Crawford claims Jonesboro as his hometown, while Hodges hails from Blytheville.
Unopposed candidates
There's quite a few unopposed candidates for North of the River.
Ones of interest include:
Maumelle City Attorney: Andrew Thornton

Maumelle City Clerk: Tina Timmons

Maumelle Council Member Ward 2 Pos. 2: Council Member Chad Gardner

Maumelle Council Member Ward 3 Pos. 2: Michael Tierney

Maumelle Council Member Ward 4 Pos. 2: Jessie B. Holt

North Little Rock City Attorney: City Attorney Amy Fields

North Little Rock Council Member Ward 1, Pos. 2: Debi Ross

North Little Rock Council Member Ward 3, Pos. 2: Council Member Steve Baxter
Emerge launches 'In Women We Trust' campaign
Emerge, an organization that recruits and trains Democratic women to run for office, launched "In Women We Trust" — a campaign highlighting how Democratic women are entrusted to run and win in the most competitive races up and down the ballot and across the nation. 
"This year's election shows that 'In Women We Trust' is more than just a slogan, it's a fact that is resonating with millions of voters across the country," said Stephannie Lane Baker, executive director of Emerge Arkansas, in a press release.
Among the program's alumni are North Little Rock's Allison Grigsby Sweatman, who is running for State Senate District 13 and against incumbent State Sen. Jane English.
"The Emerge training gave me the tools I needed to run a strong campaign in the most competitive legislative race in Arkansas," she said. "We are working hard to flip this seat so I can advocate for children and families in the State Senate." 
Since the program launched in 2019, it has trained over 50 women to run for office and some notable alumni include state representatives  Denise Ennett, Denise Garner and Ashley Hudson.
National Drug Take Back day is Saturday
The national Drug Take Back day will be held this Saturday across Arkansas.
But every day can be Drug Take Back day if it's in your heart and if you choose as both North Little Rock and Maumelle have year-round, 24-hour drop-off boxes at the city's respective police stations.
The national event will start at 10 a.m. and will run until 2 p.m. this Saturday in the south parking lot at North Little Rock's McCain Mall.
The idea is to collect your expired, unused and unwanted prescriptions and drop them off where they will be disposed of.
North Little Rock will also accept over the counter medication, vitamins and supplements among other things, they won't be taking needles and illicit drugs.
If, for some reason, you're traveling or live elsewhere, you can click here to find a more convenient dropoff location. 
North Little Rock: Hartwick names two new department heads
Ryan Wilson and Adam Tindall were both named city of North Little Rock department heads last week by Mayor Terry Hartwick.
Wilson will serve as General Manager of the North Little Rock Electric Department while Tindall will run the North Little Rock Animal Shelter.
"Both Ryan and Adam are experienced in their respective fields and will work hard to provide the best service to our residents," Harwtick said.
Wilson was previously the interim GM and has been with the city since 2016. 
Tindall has worked as an animal control officer for both North Little Rock and Sherwood, where he was most recently.
Tindall plans to increase the visibility and frequency of the Mobile Adoption Unit in the community as well as the voucher program to pay for animals to be spayed and neutered. 
Education
Robinson's Kohler gets Inspiration in Education Award
The Pulaski County Special School District Board of Education awarded the first quarter Inspiration in Education award for the 2022-2023 school year at its board meeting on Oct, 11
The first quarterly award went to, above, Wendy Kohler, a teacher at Joe T. Robinson Middle School. 
She was selected from the 34 district employees nominated.
In addition to teaching, Kohler also serves as a traffic monitor at the school "as she carefully guides students into the building through the morning car drop off line. She's also the school's yearbook sponsor.
"I've got a group of sixth graders who are excited to take the lead on this project," Kohler said at the Board meeting. "This will be 100 percent their pride and joy. I'm simply here to facilitate and help where I can."
The School Board created the Inspiration in Education award to honor certified and support staff members who are inspirational to their students or colleagues and the next three will be awarded in December, February and March.
Sports
State Volleyball Finals on Arkansas PBS Sports
The Centennial Bank State Volleyball Championships presented by Everett Buick GMC will be broadcast live on Arkansas PBS this Saturday.
The first match starts at 11 a.m. and will be held at the Bank OZK Arena in Hot Springs.
Five state volleyball titles will be decided and they'll be available to watch online the week following the finals at youtube.com/arkansaspbs and in the Engage Arkansas PBS app.
The state tournaments are currently ongoing at high schools across Arkansas.
North Little Rock and Central Arkansas Christian have already been eliminated while Maumelle and Maumelle Charter didn't make the respective state tournaments.
---
Football: Maumelle, CAC, North Little Rock all get wins
Hey, hey, what do you say.
Everybody won. Ain't that something.
Maumelle beat Watson Chapel in overtime. The second overtime win for the Hornets this season.

Central Arkansas Christian rolled past Dover as the mercy rule kicked in as the Mustangs routed the Pirates.

Then North Little Rock took care of business and won easily at Fort Smith Northside.
This was the first time this season that all three North of the River schools won their respective games but it won't happen this week as CAC has Friday off due to a quirk in the schedule of nine-team 4A-4 conference.
Maumelle travels to Vilonia while the big game of the week in 7A is No. 1 Bryant plays at North Little Rock. It should be something.
Bryant is undefeated but the Hornets been challenged this season while the 'Cats enter Friday night with a three-game winning streak and an offense clicking behind senior quarterback Malachi Gober.
Maumelle at Vilonia
Records: Maumelle (3-5), Vilonia (4-4)

Streamer: Natural State Sports

Hootens.com Rankings: Maumelle stays at No. 22 in 5A while Vilonia is No. 17.

Last week: It was a thrilling overtime win for Maumelle as quarterback Weston Pierce went past the 1,000 yards passing mark as the senior threw for 107 yards in the air to now have 1,074 for an injury-plagued season. Alan Timmons was again Pierce's top target as Timmons had two touchdowns and leads the team in receiving with 399 yards.

Class 5A Playoff bracket: Despite the win last week, the Hornets will not make the postseason.
For highlights click
here
.
Season schedule
Aug. 26: Maumelle 28, Sylvan Hills 27 (OT)

Sept. 1: Maumelle 35, Batesville 0

Sept. 9: White Hall 44, Maumelle 24

Sept. 23: Pine Bluff 26, Maumelle 0

Sept. 30: Mills 30, Maumelle 0  

Oct. 7: Robinson 35, Maumelle 30

Oct. 14: At Morrilton 35, Maumelle 14

Oct. 21: Maumelle 39, Watson Chapel 38 (OT)

Friday: At Vilonia ... 7 p.m. ... Conference  

Nov. 4: At Beebe ... 7 p.m. ... Conference  
For the roster, click here.
CAC has the week off
Records: CAC (2-7)

Hootens.com Rankings: CAC drops to No. 38 in 4A, while Dover is No. 43.

Last week: The rolled past Dover, 41-14, and are now 2-7 on the season. CAC's starters only played in the first half as the mercy rule was in effect.

Class 4A Playoff bracket: Five teams get in the 4A-4 and CAC is currently 7th in the nine-team league but the Mustangs are still in the hunt. CAC needs Clinton to beat Lamar this Friday and then the Mustangs have to beat Lamar in the regular season finale.
Highlights
Season schedule
Aug. 26: Lonoke 41, CAC 13

Sept. 2: Perryville 35, CAC 31

Sept. 9: Bauxite 37, CAC 14

Sept. 16 Harmony Grove 35, CAC 14

Sept. 23: CAC 21, Little Rock Hall 19

Sept. 30: Mayflower 33, CAC 14

Oct. 7: Pottsville 35, CAC 34

Oct. 14 Clinton 63, CAC 45

Oct. 21: CAC 41, Dover 14.

Friday: Off  

Nov. 4: At Lamar ... 7 p.m. ... Conference  
For the roster, click here
Bryant at North Little Rock
Records: North Little Rock (5-3), Bryant (7-0)

Streamer: NLRTV

Hootens.com Rankings: North Little Rock stays at No. 8 in Class 7A, while Bryant is No. 1. This is the Class 7A Game of the Week by Hootens.com.

Last week: Senior quarterback Malachi Gober was steady for the 'Cats as he passed for 205 yards and two touchdowns while Kelon Barnett led North Little Rock with 80 yards on the ground. North Little Rock is currently riding a three game winning streak.

Class 7A Playoff bracket: North Little Rock is in and the 'Cats are currently the No. 4 seed from the 7A-Central. The next two games are against the top of the league in Bryant and Cabot. Win both, and the 'Cats are the No. 2 seed. Lose both, still the No. 4 seed. A split means the No. 3 seed.
For stats, click here.
Highlights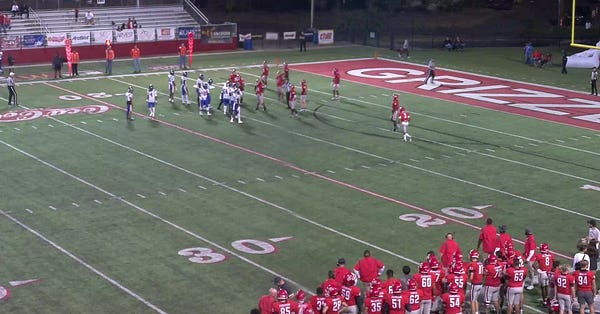 hudl.com
Northside High School
Northside High School
Season schedule
Aug. 26: Little Rock Catholic 23, North Little Rock 6

Sept. 2: Fayetteville 28, North Little Rock 10

Sept. 16: North Little Rock 28, Little Rock Parkview 27 (2 OT)

Sept. 23: North Little Rock 53, Little Rock Central 8

Sept. 30: At Conway 35, North Little Rock 0

Oct. 7: North Little Rock 50, Little Rock Southwest 8

Oct. 14: North Little Rock 28, Jonesboro 14

Oct. 21: North Little Rock 38, Fort Smith Northside 14

Friday: Bryant at North Little Rock ... 7 p.m. ... Conference  

Nov. 4: Cabot at North Little Rock ... 7 p.m. ... Conference 

Nov. 11: First round of the Class 7A playoffs … 7 p.m.
For the roster, click here.
Paid subscriptions make this newsletter possible